Howard Piche owned the cavernous brick building since 1967. From within its vintage theater, which still boasts yards of what was once rich velvet banners and classic, if not worn, seats, this was where generations of Coos County residents lost themselves in some of the great and not so great movies of their time. Piche, who was private man and quick to let everyone know that his last name was pronounced PEA-she, died in July, leaving behind a downtown treasure that has been sorely missed. With the closing of the Rialto, there is a void in entertainment offerings in the western part of the county, for this was the only movie theater between Littleton and Canada.
Sure, there are plenty of places to rent shows to watch through a VCR, but then you miss the experience of a big screen. And a place like the Rialto.
``It was a wonderful place to watch a movie like `Titanic,``` said Martha Monahan, whose family moved to Lancaster in 1942 to run the Rialto. Far from the small, sterile multi-plexes of urban areas, the Rialto, which was built around 1930, is a spacious throwback to a more elegant era, when the audience was dressed up and white gloved ushers brought them to their seats. There are 520 seats, the screen hangs down over a stage. The projector is anything but high-tech - it still burns metal rods that provides the light to send the images to the screen. ``There is definitely an art in knowing how to run the projector,`` said Dick McGuiness, who is handling the sale of the theater for Peter Powell Real Estate.
Piche didn`t put a whole lot of money into the theater over the years. While most theaters make money on concessions, movie goers in Lancaster could buy a box of popcorn for $1 and choose a can of generic soda from a dorm-sized refrigerator that also cost $1. Movies were only $5 for children and $3 for children.
``It retains the flavor of an old movie house,`` said McGuiness, who has fond memories of 12-cent Saturday afternoon matinees in his youth. ``What`s here may be ancient, but it works very well. We hope that someone will come in and keep it going.`` Monahan also has fond memories of the theater, which are synonymous with her youth. Her father, Walter Kiniry, came from Bellows Falls, Vt., to Lancaster to run the Rialto for Interstate Theaters out of Boston in February 1942.
``He thought he was coming to the Klondike,`` she recalled. But he stayed and soon brought his family to town. Monahan, a self-described theater brat, said the Rialto was her second home. She never lacked for anyone with whom to see a movie and after, there was always a crowd that headed for the soda fountain at Evan`s Market for 10 cent ice cream cones. When her father died in 1964, her mother, Mildred, ran the theater for another three years with the help of Edna Whyte, which was when Piche bought it.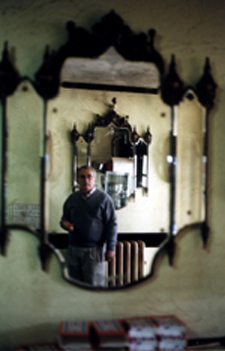 Dick McGuiness looks in a mirror at the old Rialto Theater
For more than 30 years, Piche brought whole other worlds to the theater, Thursday through Sunday at 7:30. Little, if anything, was changed inside. The red velvet drapes have likely never been off the walls. Two gilded mirrors in the lobby are tarnished. There is a musty, popcorn, movie smell to the lobby.
``The last time I was in there, I was amazed that Howard still had my dad`s old chair and desk lamp in the ticket booth,`` Monahan said. The Rialto went up for sale last month and McGuiness said there has been some interest in it.
Jim Seppala, president of the Lancaster National Bank, is the executor of Piche`s estate and he put up the for sale sign with red letters on the marquee. `TNB LSB` has been a puzzle to many, although those who were Piche`s friends knew exactly what they mean.
There`s No Business Like Show Business.