Hard by the Ammonoosuc River, Soloman Mann built a grist mill and a sawmill by the end of 1798. The grist mill made flour until around 1920 and in recent decades has been empty, falling into such a state of neglect and disrepair, that no one could fathom why the Eames family bothered to purchase it and two other neighboring buildings at auction in 1992.
But at a rededication ceremony last summer, the Eames and Ron and Carolyn Murro, who are partners in Renaissance Mills, celebrated the restoration of the Littleton Grist Mill, a $700,000 project that took two years, created more than 25 jobs and has launched a new enthusiasm about revitalizing the banks of the Ammonoosuc as a tourist draw.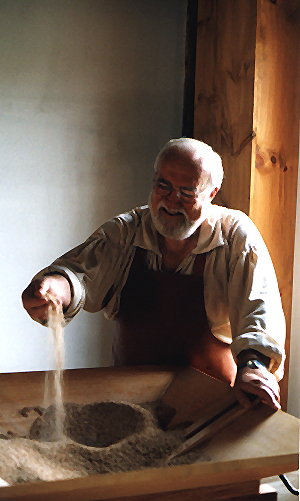 Grist runs through the fingers of Bill Campbell, who`s learned the art of grinding wheat into flour.
``In 1995, I looked across the river from the Senior Center and said, `What a mess. I`m sure glad I don`t have anything to do with that. Those Eames brothers must be crazy,``` recalled Ron Murro, who later joined the Eames to renovate this slice of Littleton history.
In 1997, the ambitious renovation project to return the structure to a working grist mill began. It was more than a matter of restoring nails and boards - it required historical research and leg work to bring it back with as much authenticity as possible.
``It`s been beat on, misused and neglected,`` Murro said. Added Jere Eames, ``We wanted to generate business in town and we knew the mill was important to the downtown`s development and revitalization. Our goal was to restore the mill to its authentic architectural and historical beginnings and spurn a resurgence of activity throughout the region.``
There has long been interest in the town to develop a river walk along the Ammonoosuc and the developers say the grist mill, which is open to the public, is a good way to start making that part of town a draw to tourists.
Department of Resources and Economic Development Commissioner George Bald presented the Eames and the Murros with a commendation from Gov. Jeanne Shaheen. ``This renovation is representative of the economic vitality of Littleton and the North Country,`` he said. ``It is a dramatic transformation and will serve as a catalyst for increased tourism in the area.``
Along with the grist mill, the two restored buildings include a museum, bakery, office and retail space. The mill produces six types of flour, three pancake mixes, two muffin mixes and corn cake mix, packaged in otherwise authentic muslin bags, aside from the plastic liner. The mixes are being sold in country stores and specialty shops in New Hampshire, Massachusetts, Maine and Pennsylvania. The Littleton Diner has signed an exclusive agreement to use the pancake and muffin mixes. The mill is open daily and free tours are offered.